Unique software lets us do unique things.
Embed your forum anywhere
Experience speeds never before possible
99% of automated spam is prevented
Join multiple forums with only one account
Text & Links
Do you appreciate our free forum services? Show your appreciation by helping us to spread the word!
Standard link: Free Forum
Short description && link: Get your own embeddable free forum for your website.
Images
Funny Image: (400x300 blog/forum/website/email sized)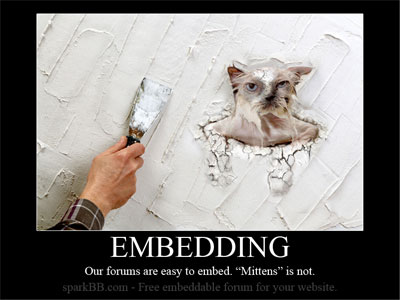 Wallpapers
Embedding Cat (800x600) - View
Embedding Cat (1024x728) - View
Embeddable anywhere.
Integrating PHP-based forums like phpBB, or vBulletin into a webpage means recreating your website's design around your new forum, or messy workarounds like iframes that can interfere with the functionality of your forum. sparkBB is a fully embeddable free forum hosting system utilizing Adobe Flex technology, enabling you to embed your forum into any page that accepts HTML. Simply copy and paste the code provided to any webpage and your integration is complete.
Our "99.9% Uptime 50x" Guarantee.
Every second your forum is down you're losing productivity, revenue, and the confidence of your members. Period. Our pledge a credit for fifty times (50x) any downtime experienced over our 99.9% uptime pledge on all premium services. For example: a failure lasting 10 hours would result in a credit of 500 hours of free premium service; a failure lasting a full day would result in a 1,200 hour, or 50 day, credit.
About sparkBB.
sparkBB is a proprietary, remotely hosted, free forum hosting solution targeted to those in need of dependable reliability of service and performance.